In a spirit of trust and transparency we decided to disclose the results of the MatomoCamp survey regarding how to design the first online MatomoCamp.
First of all, we would like to thank you all for your contribution as we received more than 250 respondents (to be precise 256 at July the 10th, some of them are partial, so some people answered to some questions but not all) which represent a significant number to take decisions. It helped us as well to have a clearer idea of the number of participants we may have. Please see below the answer for each question so as the decision the organization committee take based on those.
If you don't have the time to read through them all here is a brief summary:
MatomoCamp will be a two-day online free to attend event taking place on Thursday and Friday November the 4th and 5th from 9 A.M. to 5 P.M. CEST. It will be fully recorded with roughly 24 conferences. This event will mostly be in English though some talks in English and French may be included. This event will have a focus on digital analytics with Matomo even if other specialized topics such as privacy, integration and custom development will be there too. It will use only Free software technologies and a chat system will be available upon registration in order for the attendees to do a bit of networking.
How excited are you about the possibility to have an online MatomoCamp?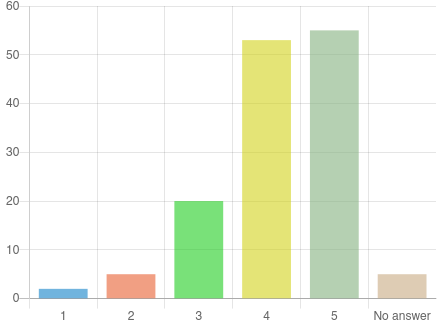 We have been pleased to read that most respondents are super excited to have this event which really comfort us in the idea that we should go for it.
What are your expectations from this event?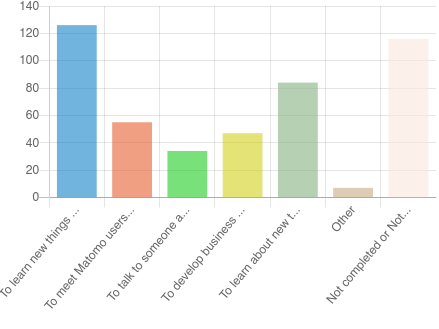 On the second question, we have been surprised to read that attendees expectations are more regarding learning new things about Matomo rather than "networking" so it is driving us more toward a conference event rather than a social event.
Which topic would you like speakers to talk about during this event?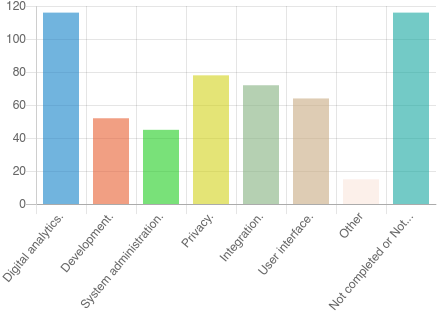 Here also we have been surprised to see that expectations are more dealing with digital analytics for Matomo rather than the technical side of it, though, as we can notice, there are expectations for all topics too. So we will try to select the speakers accordingly.
This event is intended to be in English. Would you be interested in part of the event to also be in another language?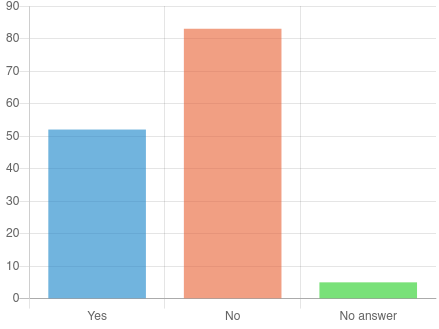 It seems, that for the majority, having the event fully in English is not issue, though it leaves some space for some opportunities for other languages.
Could you please indicate in which languages you would like to have conferences about?
This question was an open-ended one, so we cannot really list all the answers we received here, though two languages were on top of the list, by far, German, then French. According to the speaker and the topic chosen, we decided that we may consider adding talks in German and French during the event. Our idea was that some topics may be so specialized such as privacy that it may have more sense to have them in German or French.
Would you prefer to have a one-day event or a two-day event?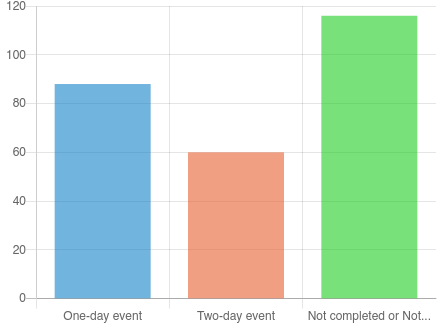 It seems here that respondents gave us the choice to choose between a one or two-day event. In fact, what we realized is that if we go for a one-day event we may not leave enough possibilities for speakers around the world to come on stage. So our idea has been to offer more possibilities by going for a two-day event with at least two conferences in parallel at the same time in order for the attendees to always have the choice between two topics. So roughly, we are looking for 24 speakers for this event.
Which month of the year for this online event would be the most suitable for you? You can select more than one answer.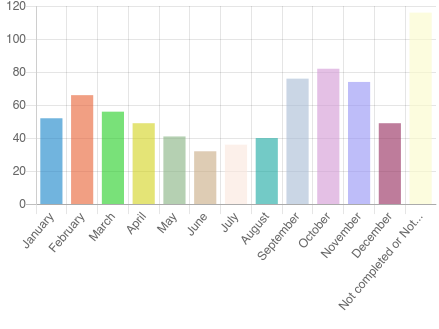 We have been really happy to read that respondents were expecting an event coming soon, either in September, October or November. So we asked internally which month of those three were the most suitable for the organization team, and it ended up November.
What would be your preferred day of the week for this online event? You can select more than one answer.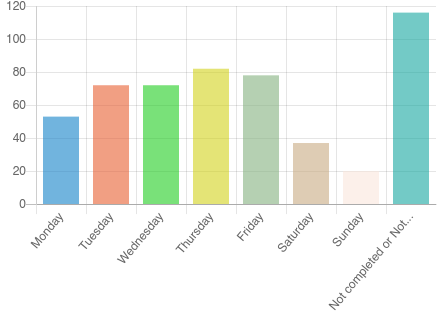 From the results we got here, we decided to go for Thursday November the 4th and Friday the 5th.
When would you like this event to start? Times indicated are intended to be in Central European Summer Time (CEST)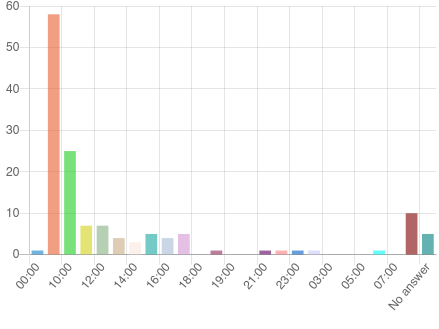 Based on the results here, we decided to start the event at 9 A.M. CEST.
When would you like this event to end? Times indicated are intended to be in Central European Summer Time (CEST)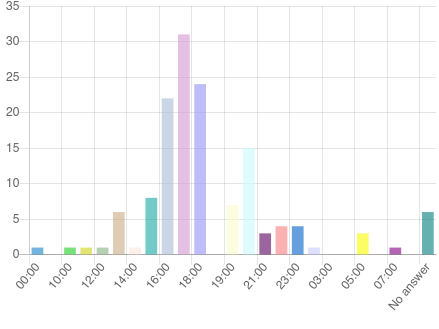 Most of respondents would like to have the event to end up at 5 P.M. (CEST)
In which country are you physically located? If your country has different timezones, please add your city.
This question was an open-ended one. Respondents were coming from all over the world, but mostly from Europe.
Would you be interested in promoting this online event? For example writing a blog post about it, promoting it on social networks. If yes, please feel free to contact us through the following form.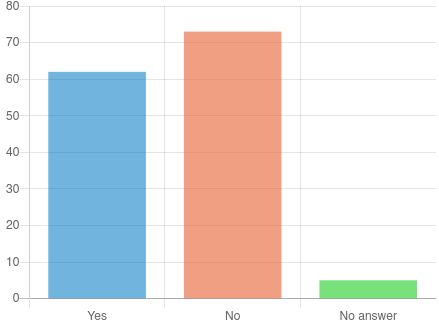 Thank you, many of you accepted to promote the MatomoCamp thanks to their own communication channels. We will do our best to contact you in the coming months in order for you to be able to promote the event in the best possible way. Our wish is to attract close to 1,000 attendees for this two-day event.
What would be most important for you for this Matomo Event?
This question was an open ended one so the answers are really diverse. One of the thing which was in common was the need for the event to be recorded. So it will be recorded. For the rest, it will mostly rely on the choice of the speakers are the needs for the conferences are dealing with privacy, integration, education.
Is there anything you would like to say to the MatomoCamp organizers?
We would like to say thank you here to all respondents, because we received a lot of kind messages telling us how enthusiastic you were about this project, and we really hope we will deliver to you according to your expectations.